This data was published in the latest update of the IDC Worldwide Semiannual Artificial Intelligence Tracker. IDC expects that growth will mainly be driven by AI-centric software (CAGR 32.4%), while growth will be significantly lower in AI services (CAGR 27.2%), non-AI-centric software (CAGR 16.7%), and AI hardware (CAGR 15.2%).
"The next five years will represent a crucial period in the commercial adoption of AI software, as many companies and governments are now investing more to make their processes more agile, efficient, and resilient," says Martin Nuska, senior research manager at IDC. Many innovative AI models, such as deep learning-based language models, generative adversarial networks, or various models for Digital Twins have the potential to drive significant business value.
Due to inflation, recession, and labor shortages, investments in AI infrastructure will be hit harder than those in more general-purpose hardware, as AI infrastructure comes at a price premium. IDC predicts that the market for AI servers/storage in Europe will show a slow but steady growth pattern during the recast period.
The AI services market demonstrated its resilience during the pandemic, and IDC expects demand for AI solutions from professional services providers to continue growing, as areas like AI-enabled analytics computer vision, natural language processing, and AI-driven process automation can help businesses to deal with price inflation, labor shortages, and the need to stay competitive.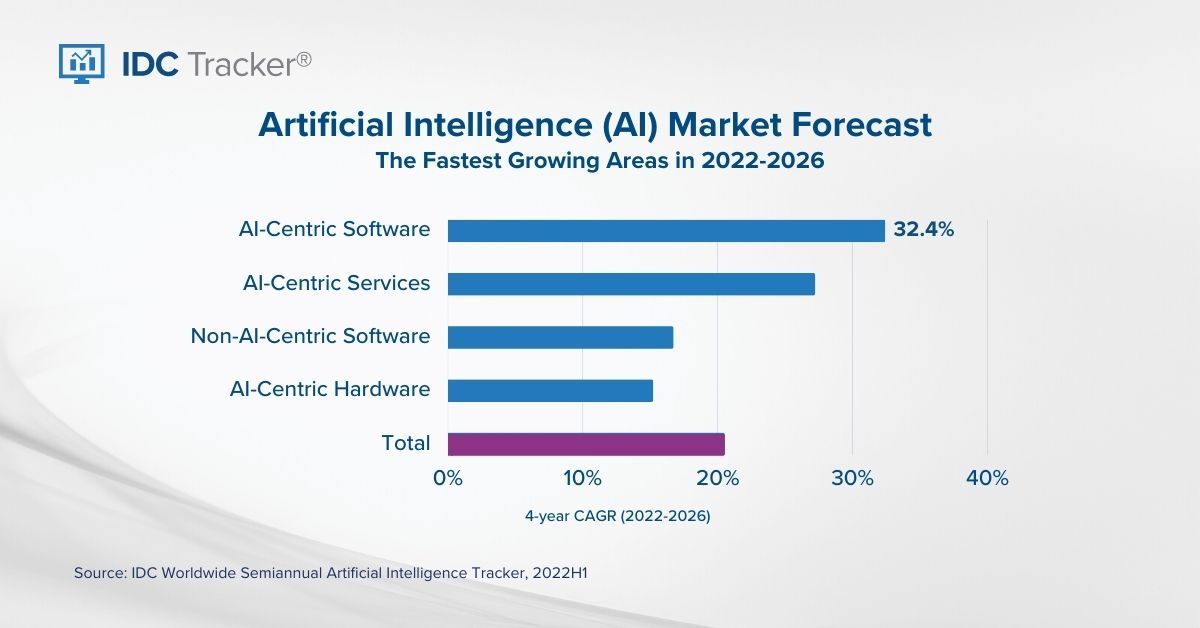 "Europe faces a potential recession, while the labor market is marked by contradictory forces – a shortage of skilled workers in certain tech areas on one hand, while on the other even the biggest tech companies like Amazon, Google, and Microsoft are laying off tens of thousands of workers," says IDC's Nuska. "We expect the AI market to continue performing strongly nevertheless, because of the technology's potential for long-term cost optimization and as a possible solution to the skills gap."
IDC's Worldwide Semiannual Artificial Intelligence Tracker ® is a comprehensive global data tool that details vendor share and forecast information on all major Artificial Intelligence markets and geographies. This includes storage, server, software, and services wrapped around the delivery of AI solution deployment. The tracker is built on the strong foundation of IDC's vendor product and market modeling methodology coupled with its extensive network of worldwide and local expertise across the globe, ensuring that the market competition and opportunities are represented true to reality.
International Data Corporation (IDC) is a global provider of market intelligence, advisory services, and events for the information technology, telecommunications, and consumer technology markets.
www.idc.com