CSA Research's latest report "Dashboards for Globalization Success" has the data global enterprises need to plan, design, implement, and evolve dashboards incorporating localization data. Based on qualitative primary research and CSA Research's interactions with buyers, language service providers, technology vendors, and advisory and consulting engagements, the report includes data-based and business-oriented guidance to help enterprises interpret the degree to which local markets contribute to revenue and growth.
Global enterprises – from C-level to finance to marketing departments – can use this market research report and its companions, "Localization Analytics Maturity" and "Align Your Localization and Enterprise KPIs", to benchmark their dashboards and data analytics, identify new uses for localization data, and better understand internal reporting requirements.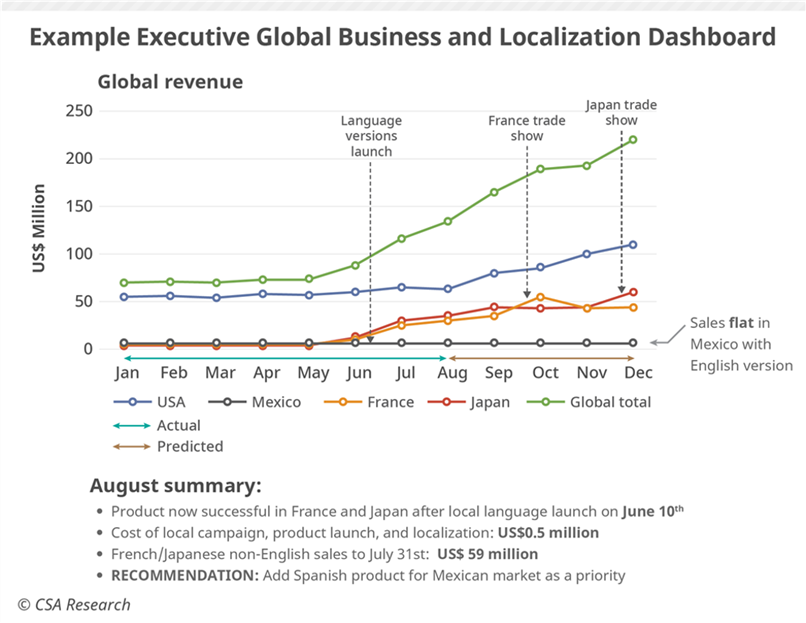 As AI and machine learning with other forms of automation advance rapidly, dashboards and their underlying data will continue to evolve. In time, much of the information that dashboards passively report today will instead automate decisions – such as what to translate, how much, and when – and other actions such as provoking a quality review or signaling an escalation.