Today the "right place" for content is almost anywhere. Content formerly delivered only on the desktop or in print can now be published continuously where it can easily be found and used – on mobile devices.
Mobile options
Help authoring tools can be used to single-source to three outputs that will work on mobile devices: mobile Help, browser-based Help, and EPUB. You can access all three on phones, tablets, and eReaders.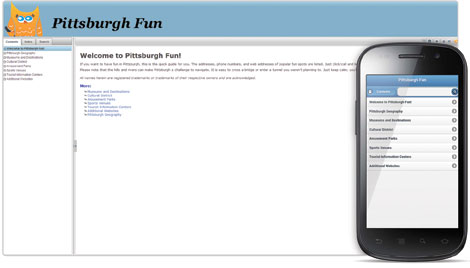 Image: Mobile output and its browser-based counterpart
You only need to "mobilize" content for mobile Help – EPUB (for the most part) and browser-based Help are fine as-is. Standard Help authoring tool (HAT) features make it easy. Mobile Help that takes advantage of jQuery and jQuery Mobile makes it possible to create mobile Help that is browser- and device-independent.
And we can still simultaneously deliver manuals and other types of Help when necessary. In ...